Pu'erh and Pizza
Yesterday we got up and walked a couple of blocks to the Feel Good Cafe, purveyors of Cambodia's best cup of coffee. It's also a darn fine place for eggs, pancakes and other Western breakfast staples, and after about a month of Asian breakfasts, we decided to indulge.
We ran into the team from Central Vineyard Church and invited them to join us on a visit to the Q. N China Brand Tea Shop, one of our favorite stops when in Phnom Penh. Kori, my wife, doesn't drink coffee, doesn't really care about clothing, doesn't need any more Asian souvenirs and doesn't wear much jewelry. So I'm always more than happy to drop a few bucks on some high quality teas that would cost four times as much in the States or Europe.
After a delightful hour of sipping and selecting jasmine, fresh oolong, dried oolong and ancient pu'erh teas, we drove to a nearby branch of The Pizza Company and met 20 of our university students who have graduated from Asia's Hope in Prek Eng. Oh, how I love those kids.
These are bright, hardworking students. They put in hours of study that would horrify most American co-eds and they're involved in ministry at their church and with the kids at Asia's Hope. They're relentlessly positive — I spent two hours with them and despite some good-natured teasing among the kids, there was never a hint of snark or cynicism. They love their country despite its imperfections, and they're all committed to working for its good as lawyers, teachers, doctors, economists and entrepreneurs.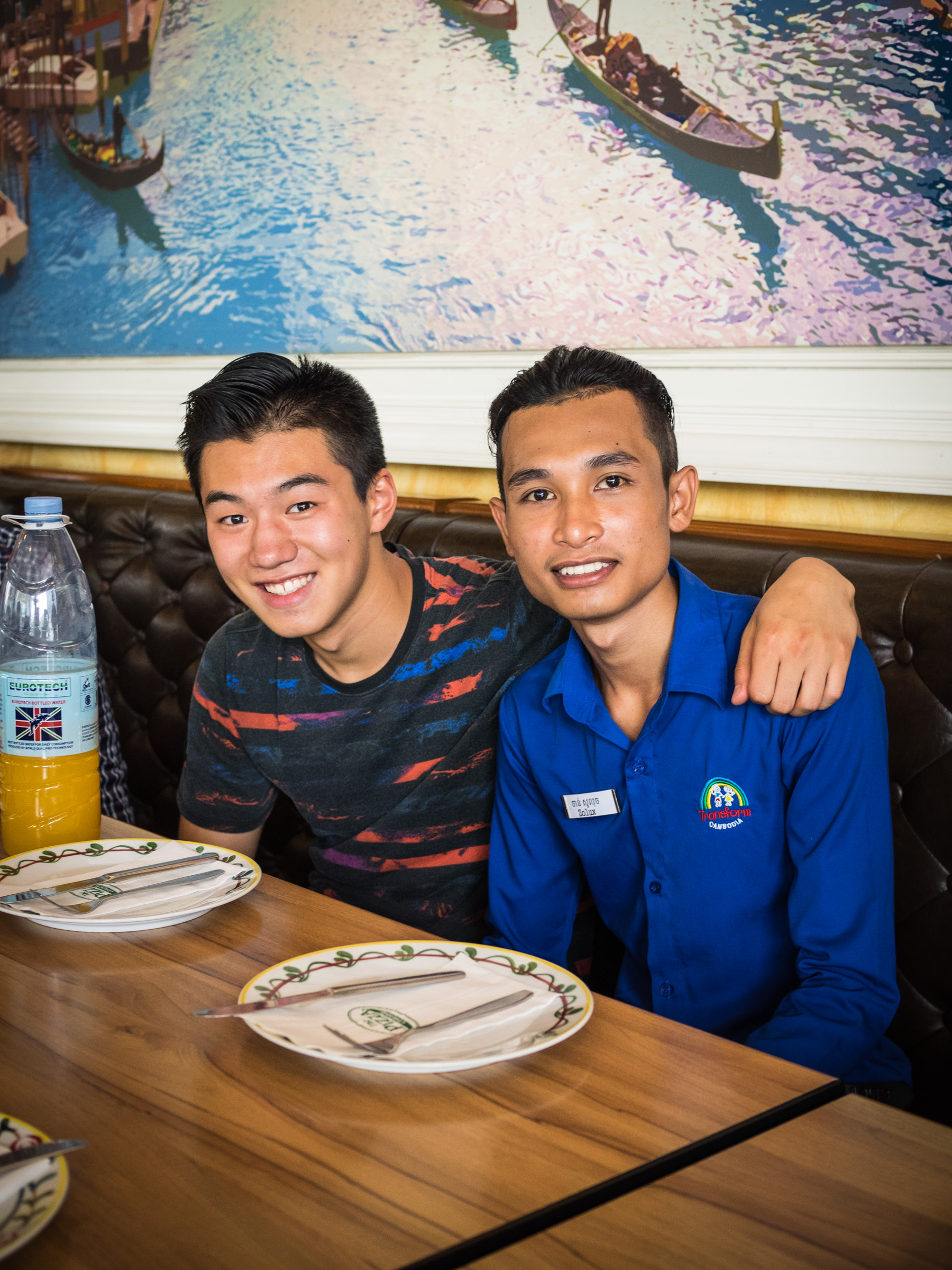 They are the first fruits of our ministry here in Cambodia, and are the living proof that residential orphan care is not only not intrinsically harmful to kids, but with the right leadership, proper funding and a family-centered model, can be absolutely transformative.
After lunch, we headed out of the city, over the bridge and through the rapidly developing side streets that were just a few years ago nothing but rice fields and banana farms. Arriving at our Prek Eng campus after spending the previous hours with our university students, I was struck with the encouraging yet daunting prospect providing for the dozens of kids who will be joining their ranks in the next few years.
Upon returning to the city late in the evening, I spent a couple hours reflecting with some of the members of the CV team. "How are you going to pay for all of those scholarships?" "What can we do to help?"
Good questions.
Thanks to the generosity of our church partners, we have a certain portion of our university fees already committed. But we need a lot more. It currently costs about $1,500 on average to fund a full scholarship for one of our 82 university students in Cambodia and Thailand. That includes tuition, books, fees, technology and underwrites a portion of transportation costs.
That's not bad when you compare it to the cost in a Western country. But when you look into the not-to-distant future and see that we'll have more than 200 college students in less than 5 years, you see the size of the bills we're facing. And if you factor in anticipated cost increases and the fact that we'll soon have dozens of graduates in India, where university is considerably more expensive, you'll understand why we need to raise significantly more funds for our scholarship fund.
I wasn't planning on making a fundraising pitch, but it's hard for me to think about our university kids without thinking about these needs. So if you want to see these kids reach their full potential as their country's next generation of leaders, will you consider making a generous one-time or monthly investment in our scholarship fund? I can assure you that your money will play a vital role in changing communities and even entire countries.